Looking for easy projects to start off with?  These no fail beginner projects with step by step instructions will guide you all the way through.  My favorite beginner projects are fast and have great instructions.  We found the easiest and the cutest from all over the web! Check out our top pics!

Mini hexi magnets are really cute and super easy to sew.  You will get a kick out of making them and your fridge will love wearing them! via Craft Sew Create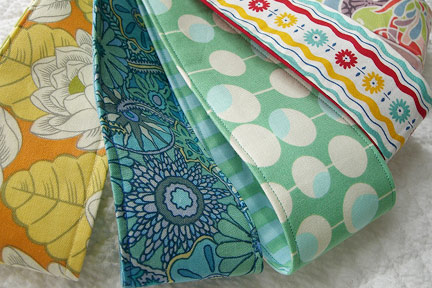 Sew these reversible headbands in minutes.   Have your scraps ready! Thanks to this easy to follow tutorial you'll want to make a few for yourself and your friends. via The Long Thread

School is starting back and what about this cute book bag for teacher. This is a basic pattern that every beginner will be able to follow.  Get enough fabric because you'll want to make two. via needle and spatula

Fall is near and you know what that means–running baby noses. make these cute tissue holders fast.  They're cute and functional. via BHG.com.
Rachel Faucett is the author of well loved design and DIY crafts blog Handmade Charlotte. She also contributes to Martha Stewart, HGTV, Disney Baby, Paint Me Plaid, Dotcoms for Moms, Bernina and Babble.com.
She loves bringing new ideas, inspiration and original projects to Coats and Clark's official sewing blog Sewing Secrets.