If you're a big fan of our spookiest holiday, you'll love the idea of making a Halloween Skirt! Better than a costume that's worn for just one night, these howlingly sweet skirts can be fun and festive all month long. Designed for little girls, these could be loads of fun for big girls, too! Best of all, any of these sweet and twirly creations would be fun in other colors for any time of year.
Fluttery Butterfly Skirt
Let's start with the fantastic Halloween Skirt design by guest blogger Jessi for the Andrea's Notebook blog. Sweet, frilly and delightful, you can turn your little one into a beautiful butterfly with Jessi's easy to follow tutorial. You'll need black fabric for the base skirt along with pink and while felt for this twirly masterpiece. Jessi began with a circle skirt tutorial she links in her post, then added simple shapes to create the butterfly design. Her instructions are excellent and you'll enjoy following Jessi's directions for drafting your own wing-style skirt petals. Loaded with crafty fun, this is a skirt full of potential for all year long! Click here for the Fluttery Butterfly Skirt tutorial.
Halloween Maxi Skirt
Choose five spooky, shadowy fabrics, a little elastic and thread and you'll be ready to cast a charming spell with this Halloween Skirt! This simple skirt, made by Sarah of the Bombshell Bling blog, will delight your "candy collector" with its maxi-length tiers. Sarah clearly outlines how to cut the strips you need with an easy formula for their width. You'll start by customizing the length for your little and end with an elastic waist that's just right.  Click here for the Halloween Maxi Skirt tutorial.
Halloween Applique Shirt & Twirly Skirt
Along with an adorable twirly Halloween Skirt, Jedi Craft Girl Amanda designed a not-too-scary T-Shirt for the Therm-o-Web blog.  Her craftily enjoyable skirt includes a ruffle and self-made piping for a wonderful finished look. Drafted for a size 6, the pattern is easily adaptable for little ghouls of any size. Add the fusible applique black cat design to a coordinating t-shirt for a too, too cute outfit. Not fond of black cats? Choose the alternate bat design, Kelly includes in the post. Click here for the Halloween Applique Shirt & Twirly Skirt tutorial.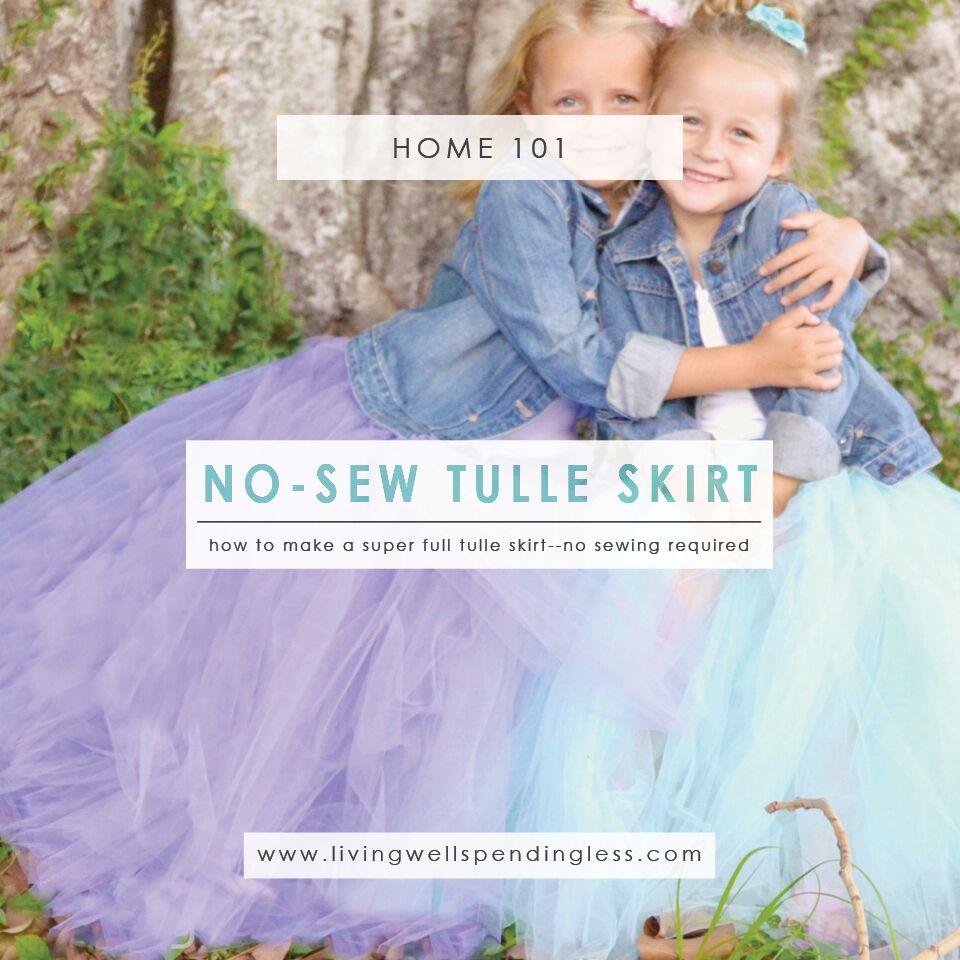 Super Full Tulle Skirt
Originally designed to add a spectacular element to a family photo shoot, this super full Halloween Skirt is perfect for any occasion. Make it in Orange for October fun, red for Christmas and a pale, pretty pink for Easter. It's the perfect swish of year-round skirt joy. Yards and yards of inexpensive tulle and a length of elastic are the only ingredients you'll need for the skirt potion conjured up by Ruth of the Living Well, Spending Less blog. Follow the easy instructions while keeping in mind that tulle is usually wrapped in four layers around the bolt. You'll be cutting through all those layers, then following Ruth's great instructions for the final cuts. Easy, charming and fun for any age! Click here for the Super Full Tulle Skirt tutorial.
Elegant Princess Dress
No this isn't a Halloween Skirt, but this magical princess-ready frock just had to be included in our list! It's a beautifully detailed brew of lace, organza and bling your little royal will definitely love. Kelly of the Sew a Little Seam blog includes a free size three pattern in her tutorial. It will be easy to adjust for an older girl. Sparing no elegance, Kelly includes pearl-encrusted matching gloves, a marvelous organza shawl and bits of bling that make the dress awesomely spectacular. You'll love the option for fanciful rope lights in the skirt, too! Kelly cleverly uses a stretch fabric for the bodice back to avoid the need for closures. A non-stretch fabric with an added zipper would work just as well – your choice! Click here for the Princess Dress tutorial.